A little about me

I'm best at helping you discover what nourishes you other than food. There's nothing I love more than helping you achieve your goals. I'm your advocate. I'm committed to supporting you with the resources you need to be successful and feel your best. I believe in you. So I make sure you never run out of inspiration or commitment. I keep it simple, fun and fresh. So you stay motivated and get results.
I'm Michele Faier, your holistic health coach and advocate. My superpower is helping you discover what makes you feel your best and inspiring you to make lasting life changes, so you can truly thrive.
I have a decade of training and experience working with private yoga, bodywork, and nutrition clients. My passion for this work grew from my personal struggles; Years ago my body was a mess with digestive issues, lower back pain, headaches, and eczema. I felt so awful, I was forced to become my own healthcare advocate, and sought out holistic doctors and healers. I studied everything I could about nutrition yoga and the body-mind connection. What I learned was that there was no magic pill – some things worked for me, and something didn't. But the most important piece was slowing down to really listen to my instincts, and recognizing the power of my thoughts. My journey taught me that emotional health is an integral piece of physical health.
For the last decade I've been working one-on-one with clients who all wanted similar things – to heal their bodies, get in shape and learn how to take better care of themselves. The first step was changing how they ate. Healthy Kitchen Makeover (HKM) evolved from the amazing personal transformations I witnessed in my clients working together in their homes to change their diets. Not only did we have great fun grocery shopping and cooking, but this hands-on work became the foundation for each client's transformation.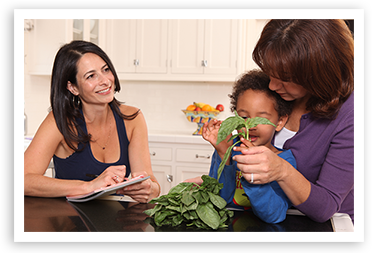 I have an awesome track record.
I've helped people address and heal everything from low back pain, pregnancy, and getting back in shape. I give clients the skills to relax and get grounded, and get their sexy mojo back. After a decade of custom designing whole-life programs (including personalized yoga, bodywork, nutrition and Life Coaching), I have a powerful stock of tools. I've witnessed people heal illness, get in shape, and transform big emotional stuff – and the very first step to all of it was changing their diet.
I walk my talk.
Everything I ask my clients to do to look and feel their best – I do myself. I turn every health challenge into a learning experience and a solution. Some weeks it's easier than others – and I still struggle just like you, but I also have amazing resources and support to keep me on track. (The same support I give you.)
BA, Evergreen State College
Coaching Certification, The Coaching Training Institute
Nutritional Counseling Certification from the Heartwood Institute
Apprentice to leading nutritional authority, Paul Pitchford (author of Healing with Whole Foods)
Owned and operated, Yenta's Soup – an organic soup delivery business in Olympia (I'm still a killer soup maker)
Over a 1000 hours of bodywork training in Swedish, Prenatal and Deep Tissue Massage, Neuromuscular Therapy, Craniosacral Therapy, Zen Shiatsu Acupressure, and traditional Thai Massage
Yoga Works Teacher Training with Lisa Walford and Maty Ezraty
9 month apprenticeship to Jasmine Lieb , and assistant in the Yoga Therapy Clinic
3-year Viniyoga Teacher Training with Gary Kraftsow
Completed Pilates Teacher Training with Marie Jose-Bloom Lawrence
Several years experience working in a physical therapy setting, treating chronic pain, TMJ, carpal tunnel syndrome, sciatica, thoracic outlet syndrome, sports injuries, as well as high-risk pregnancies and other prenatal conditions
Private practice work with addiction, depression, anxiety and bereavement
Over a decade of practice in holistic mind-body healing
I loved sampling all my surprisingly delicious and nutritious new products
"The best part of HKM is grocery shopping with Michele. She has excellent taste and showed me foods I never would've thought of, or known what to do with, and she always keeps one eye on that ingredient list. The cooking session was also a feast, and I loved sampling all my surprisingly delicious and nutritious new products."
Liza Cardinale
T.V editor and mom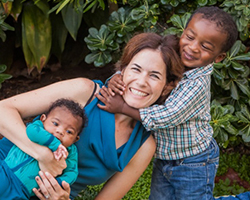 As a coach myself, I understand the value of having an expert help you reach a new level.
"Michele did just that for me with her healthy kitchen makeover. Michele came to my home and together we discussed in-depth, the areas of my life to find where I was most challenged with my health and take a closer look at my diet and stress management regime. I had issues with digestion and lower-than-normal energy. Michele made the process easy with a custom-designed protocol for me, and fresh ideas for using what I already had in my kitchen. She was with me every step of the way and her help was critical to why I'm feeling my best again. So I can highly recommend Michele and her Healthy Kitchen Makeover – whether you're boosting what you already have going on, or getting serious about your health for the first time. Michele is smart, caring, fun to work with, and most importantly – devoted to the health of those she works with."
Ruth Smith
Co-Founder | Nutrition & Health Coach
Sage Wellness