The Life-Changing Magic of Apple Cider Vinegar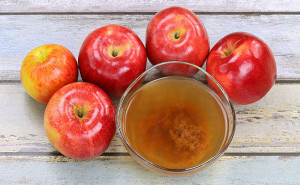 Apple cider vinegar (what we'll refer to as ACV throughout) is made from fresh, crushed apples which are then fermented in wooden barrels, turning them into a versatile health aid. But this vinegar is more than just a salad dressing – it's one of the best-kept health secrets and elixirs of vitality. High in calcium, magnesium, phosphorus and potassium, with natural bacteria-killing powers – ACV is a secret weapon with head-to-toe benefits.
Below are a few ways to use ACV as an at-home health remedy: The benefits of ACV span skincare, haircare, household use and even petcare. It's an all-natural digestive aid, weight loss and energy booster, bacteria-killer, food preserve, disinfectant and more. And best of all, apple cider vinegar is conveniently found at most grocers.
Keep Inches Off.
For daily weight management, add 2 teaspoons of ACV to 16 ounces of water, and sip throughout the day. This vinegar is rich in natural enzymes that help reduce sugar cravings. Additionally, the main ingredient in ACV is acetic acid, which shows significant weight-loss benefits with daily intake.
Boost Buzz. Daily Detox.
High in calcium, magnesium, phosphorus, and potassium, ACV is an ideal and digestive aid, weight loss booster. Research shows that higher acid levels lead to a lack of energy and higher incidences of infection, so sipping or enjoy an ACV shooter" throughout the day is ideal for natural energy bursts. ACV also detoxifies the liver and body, and helps the body maintain a healthy alkaline pH level.
Digestive Ease
ACV's acidic nature is the key to its health-promoting benefits. The natural probiotic power of ACV introduces good bacteria which balances stomach acid, reduces heartburn and boosts immunity from illness. For heartburn or indigestion take one teaspoon of ACV followed by a full glass of water. ACV helps to stimulate the natural production of hydrochloric acid in the stomach, essential for the proper digestion, and protects against ingested pathogens and relief from acid reflux. Drinking tablespoon of enzyme-rich ACV with a cup of water or tea before eating can promote digestion, combat gas, discomfort and constipation because the acid actually helps to break down your food.
Supple Skin. Acne Overcome. Sunburns Soothed.
ACV can do wonders for your skin. For an all-natural astringent, apply a washcloth soaked in diluted apple cider vinegar to your face. Afterward, the protective acidic layer will make your skin feel smoother, absorb excess oil and reduce fine lines. This works by restoring the proper pH levels to your skin, and beta-carotene helps to counter future skin damage. Plus, a dab of diluted apple cider vinegar left overnight on age spots, pimples or acne scars will help reduce their appearance. And for sunburns, simply soak 10 minutes in one cup ACV added to your bath to take the burn off.
Throat Ease.
Substitute cough syrup for ACV to soothe sore throats by mixing one teaspoon ACV with one teaspoon cayenne pepper, into a glass of warm water for an easy elixir. The antibacterial properties ACV are healing, and the capsaicin in hot peppers helps to ease pain. Heat kills the natural antibacterial and inflammatory properties of honey, so instead of mixing it in, follow with a tablespoon of raw honey. If your sore throat is due to allergies, ACV packs an extra punch – breaking up mucous and sinus congestion. These are a just few healthy ways to begin incorporating apple cider vinegar. The benefits of ACV have long been known by many cultures – from promoting healthy skin, metabolic function, and blood sugar levels for natural weight loss – to reducing inflammation and pain in the body or treating ear infections, nail fungus and lice. Despite this, while there is some research, science has yet to prove all of the associated health claims. And while consulting your doctor is always recommended before adding anything to your diet, ACV is generally considered harmless to consume in moderation. When buying apple cider vinegar look for a bottles that says, "Organic," "Unpasteurized," and "the Mother," on the label. "Mother" means it includes healing enzymes and good bacteria, that give each glass of ACV a cloudy, unfiltered look. Bragg's is a popular and recommended brand that fits this description.
Please share your stories of success and any other uses you've found for ACV with us below!